Brace yourselves, this may be a long one.
Have you ever stopped and breathed through the words, "why me?"
The age old question that can easily spiral each of us down a vortex of instantaneous gratification of victimization if we let it.  Ah, yes, victimhood!  Exciting! 
But hang on, I'll get to that in a little bit.
All of us have had to days, weeks, or months where everything seems to be going wrong, right?  My friends never reach out to me, my boss is getting on me, my car won't start, my kids won't stop talking back, I forgot to pay this bill and now I have a late fee, the dog is sick, my husband is breathing, God why is my husband breathing!?  (Or wife, you choose.)
The list can be never ending and we can enter victimhood, if that's the path we divert toward.  Because, you know what, I deserve to have this pity party!  Right!?  Someone get the marching band and balloons, we're having a pity party tonight!
So, why you?  The question is, why NOT you?
Murphy's Law and Newton's Third Law spares no one.  It's time to get a grip.
I had quite the weekend this weekend.  It started on Friday when I got into a car accident.  Thankfully, I am okay, and luckily, I left an hour before an appointment time, for a twenty minute travel time.  The driver who hit me was extremely angry, calling me names, telling me how stupid I am and taking pictures of my licence plate.  I asked if she was alright and called the police.  I remember being extremely calm the last time someone hit me a few years ago, as well.  I was listening to the other driver talk to the cops:  "It's not my fault right?  I am not wrong, right?  This isn't my fault."
It was an automatic refusal to take any fault.  I thanked the police and was on my way while thinking about her reaction.  It may be true, the hardest thing in the world to say is "I was wrong."  My brand new car is a little banged up, but I am not banged up.  It could have been worse.  It was also another first for me.  I actually drove away with my heart full.
"Heyyyy, Acura, me again, I'd like to make an appointment."
Fast forward to Saturday.  During my annual Christmas date, in NYC, with my niece, I lost my cell phone.  While at Bryant Park I pulled out my phone to snap pictures in front of the tree.  After taking a few, I put my phone back into my purse, we we shimmyed over to the skating entrance.  I paid the $100.00 before hand to save line time and get more skate time.  I went to pull out my phone to show the attendant my receipt and, Murphy's Law x Newton's 3rd, my phone was gone.  We backtracked our steps, but you know the drill, the phone was gone.  We rushed back to Jersey (thank God I didn't lose my wallet and I was able to pay for our train rides), got to a Verizon, and $410.00 later, I have a phone again.  To end the night, I took a nasty spill on the un-shoveled sidewalk of my doggy daycare.  Of course, all I could think was, "Please God let my bad knee be okay so I can still run!"  With Marathon training, this is all I care about.
It totally could have been worse.
A photo of me laying outside of Camp Bow Wow, Midland Park
Sunday, A NEW DAY!  Thank the Universe.  I've been looking forward to today for a few weeks now.  I was having brunch in the City with my cousin Kristen, her wife, Katie and their friend, Jen.  As I've been trying to do lately, I gave myself time to get there, however parking was tough.  I landed a spot, didn't see any signs, and was on my way to Dirt Candy just a few minutes late.  After a wonderful meal of all things vegetarian and good girlfriend laughs, I sashayed myself, in my over the knee boots and jeans that I finally fit into again, back to my car.
And then I saw it.
An obnoxious, bright orange, $65 ticket plastered to my windshield.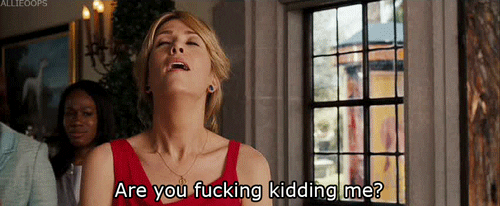 Apparently, the truck parked in front of me was completely blocking a "No Parking Anytime" sign.  I mean, really?  Why didn't I inspect further?!  I spiked the ticket on the ground and got into my car.  Then got back out and picked it up because I still have to pay it.  I could have gotten booted.  It could have been worse.  Do you see my paradigms yet?
On the opposite side, back to the gratification of victimhood.  See, being a victim is cozy and comforting.  It's dependence on those around you to feel good or content.  It's dependence on those who enable it.  You don't need to be personally responsible for whatever has gone wrong in your life because it's always someone else's fault.  Which means you don't have to go through the pain of fixing it either.
You hate your job because of X.  You can't do this because of Y.  Your last relationship failed because of D or you're "stuck" in that unfulfilling, but okay, relationship because of B.  I crashed my car because of A.  I know, because we've all been guilty of it.  We've all given up our power to something else, so we remain powerless.  But it's okay, pass a pillow and blankie, because it's comfy.  On the other side, is the reclaiming of power, which is easier than you think.  (Stay tuned for my next post..)
For a moment, I wondered if I was out of alignment or if Mercury Retrograde was trying to show me something.  I actually think the Universe was just testing me, with all of these challenges, to see if I am ready to get to my next level of life (did I pass?!).  Mars is entering Scorpio today, which is positively action packed… Or maybe it was just a few shitty experiences.  Who knows, but by now, if you know me, you know I like to believe in something.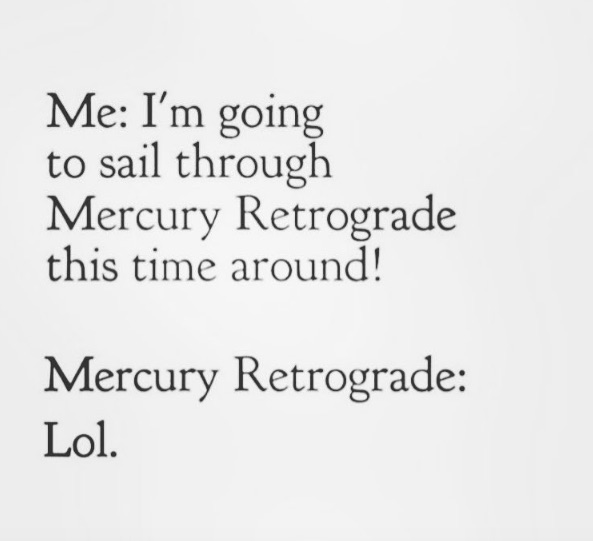 With that, tomorrow is another day and a new week.  It can only go up from here, right?  I wish you all the best week and hope you're gearing up for your holidays.  As always, I'm truly grateful for all of you, every follower and visitor.
All of my love,
X,
Angela