I am going to start this out with honesty:  I had no clue if "wish list" was one word or two and I actually had to look up that piece of information.  It's two.
Anyway, now that I've cleared the air, on my airiness, I will continue on with what this piece is really about:  As stated, my holiday wish list.  (Two words, more than two wishes.)  In case anyone is looking to purchase me anything, here is a great place to start OR this is a great place to start for ideas for that wo(man) in your life, since I am clearly a little bit of both.  Hahstag Mangela.
On this list is more than World Peace since we wont have that, for minimum, another four years (sorry, that's the first and last political joke, I swear).  More than quick and easy healing from all situations that have deemed us as temporarily damaged.  More than my want for my dog to come into the house, from the yard, when I call "come!" instead of me having to chase her around the yard like a mental patient for 17 minutes.  More than an unlimited supply of those LoCarb Monsters that get my through my 5am workouts.  Let's hop to it!  Or in my case, run.
Earlier this week I cornered a woman in the gym locker room and demanded to know the make of her "gym bag" that she was carrying.  Mine is a Nike duffel.  Hers is an MZ Wallace.  Ahhh, good ol' Equinox.
 The MZ Wallace Metro Tote.  This is a perfect "everyday" bag (says the woman who changes her purse about three times a week) for my on the go lifestyle which is subtle about the brand.  I am eyeing the Medium size since the Large is rather Large.  Price range is $195.00 to $225.00 which doesn't exactly break the bank for a good quality, nice bag.  If you order through the website, you can also score 15% off of your first full price purchase.  Don't buy this for me, it's already in my cart.
2. 
Someone to pay for my gym membership. 
Okay, so it was my choice to join the Rolls Royce of fitness facilities
(I repeat, I did not hit the lotto)
but even when I was paying $30 a month, I would have TOTALLY appreciated if someone covered my dues for the year, as a gift.  Even for a month.  Hey, that's an extra tank of gas is my RDX.  I'll take it.  And I am positive others will, too!
3.  A deep tissue massage.  For any athlete in your life, they will appreciate this.  Sure, I may silently cry during the massage and whisper "No, you're not going too rough,"  between whimpers, when they check up on their pressure.  Sure, I may or may not have had to call out of work the next day.  A quarterly deep tissue is completely necessary.
4.  Dance Lessons!  I'd like to think I can dance… Just not Salsa.  I feel I suck at it.  I am the worst half Puerto Rican ever.  This could be fun, for not just me, but anyone you're giving a gift to.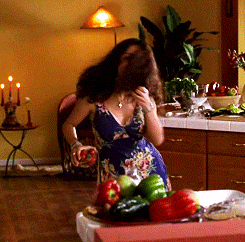 Compression socks.  Have a runner/long distance runner in your life?  You can't go wrong with these.  That have helped me TREMENDOUSLY (last one, I really swear this time!) since snagging an injury.
6.  Nike anything.  JUST.  NIKE.  ANYTHING.  Especially Pro Warm tops since winter running has officially arrived.  Completely digging this Vixen top.
7.  A weekend trip.  It doesn't have to be any place crazy.  I'll gladly take a quick weekend ski trip anywhere in NJ/Upstate NY.  Yes, I can ski.  No, it doesn't look like it.  Yes, I actually like that about myself.  I'd even be happy to sit in front of a fire, in a cabin, hanging out for two nights.  And guess what?  Anyone else would be happy, to do the same, too.
8.  This: 
9.  iPhone 7.  Wait, just kidding.  Since my 6S finally completely s**t the bed last weekend, I was able to upgrade.  It's cool.  I like it.  It sends texts, receives my non-stop work emails and displays  notifications, on the front of my phone, for those accidental likes, views, or follows.  (HEY, sh*t totally happens.  I don't suggest tossing your phone in the Hudson or booking a one way ticket to Canada.  We're in our 30s, stay savage, own it.)  Perfect gift for that Apple snob in your life.
10.  These.  All fellow animal lovers, of all ages, will agree.  They're fun, even for us thirty something year olds, on non-work days.
11.  Botox.  I will never say no to my quarterly Botox appointments being paid for.  The ol' husband knew that last Christmas.  And my birthday.  And Valentine's Day.  And a random Wednesday in July.  For the woman in your life who also gets filled, you won't go wrong.
12.  Anything Monogrammed.   I actually can't get enough of this Personalized Monogram Scarf that I just snagged from Mark and Graham.  $49 bucks and an awesome gift.
Why is that photo so large..?
I also just got this for my front door and I am in love.  Another perfect gift for any homeowner or new homeowner in your life.
There you have it.  All things that I'd personally love to receive.  There are also the other items that I'd, or others, will just never say no to:  A home gym (fat chance, I know), Barnes and Noble gift cards, a nice bottle of liquor, classic kicks like Chucks, Shell Toes, or NB, salt lamps for that spiritual junkie in your life, teeth whitening, classic sunglasses like Ray Ban's, any type of outerwear such as North Face, adoption fees for a rescue pet, a great man bag for the guy in your life, Sephora gift card, power tools, good knives, a baby goat, a new TV or laptop, anything for the home.  Dear Universe, I really am a thirty something!
Happy Shopping to you all!  And please, don't ever, ever, ever forget that the best thing you can receive during the holiday season is spending quality time with those that you love and care about.
Watching someone smile as they open a gift that you gave them is a close second.